I have always enjoyed baking and eating sweets!
My first job at 15 years old was working six days a week in a bakery. I loved this job! I would watch the bakers bake breads, decorate cakes and cookies, make miniature pastry and danish, and create amazing desserts. After the baby is born, as a bonus to clients, I deliver one of these home-baked treats to them when I visit them for their follow-up visit. It would give me great pleasure to bake you some of my favorite desserts or share their recipes with you.
Bon Appetit! Enjoy!
Pignoli Cookies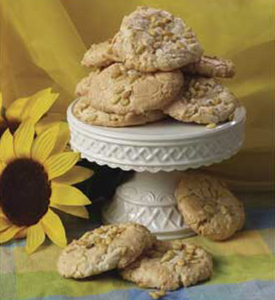 Pignoli Cookies
By Diane Ellen
Ingredients:
· 1 8oz can of almond paste (not tube! I can only find this at Albertson's Supermarket or at some Publix's)
· ¾ cup of sugar
· 2 egg whites
· pignoli nuts
· Love!
1. Beat room temp egg whites until fluffy. Add in sugar and beat. Add in broken pieces of almond paste. Beat all together until smooth. Don't forget to add the Love! (LOVE is the secret ingredient in my recipes!!)
2. Line cookie sheet/jelly roll pan with aluminum foil. Do NOT spray with any non-stick spray.
3. Drop 1 heaping TBSP of dough on foil. Top with lots of nuts. Leave 1 ½" between cookies.
4. Bake at 325* for 20min on bottom oven rack then 3-5min on top oven rack. They should be light in color and appear cracked. Leave on foil until COMPLETELY cool. Gently peel back foil from cookie. Fragile!
5. Enjoy!!! May be frozen in Ziploc bag for long time. (P.S May be eaten while frozen!)
Please call me with any questions! Diane cell # 561-302-1919
Aunt Emma's Crumb Cake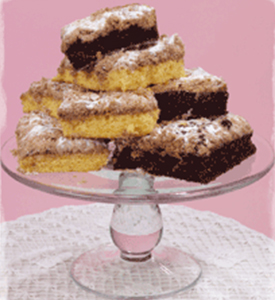 Aunt Emma's Crumb Cake
By Diane Ellen
Ingredients:
· 2 Cups flour
· 2/3 cup sugar
· 2 sticks butter (only use butter!)
· 1 tsp vanilla
· 1 tsp nutmeg
· 3-4 tsp cinnamon
· 1 package Super Moist yellow cake mix (can use any flavor: Fudge Chocolate, Lemon, etc.)
1. Prepare cake mix according to package. Bake in cookie sheet/ jelly roll pan for 18 minutes at 350 degrees.
2. While cake cooking, mix remaining ingredients for crumb topping. Add in the vanilla last. The sticks of butter should be medium soft—not hard—not melted. Mix with your hands to form crumbs. Do not over mix as butter will begin to melt.
3. Remove cake from oven at 18 minutes. Place topping on cake. Return to oven for 15 minutes. (Note: times are specific for a reason!)
4. Remove from oven. Allow to cool. Sprinkle with confectioner's sugar/ powdered sugar.
5. Enjoy!!! May be frozen in Ziploc bags for long time. (P.S. May be eaten frozen! )
*Try something different! Add peanut butter chips/ milk chocolate chips/ dark chocolate/ chopped pieces of candy to crumbs or to mix.experiment! Have fun!
Note: No one remembers who Aunt Emma is but I feel compelled to carry her name on. So if you pass on this recipe, please remember Aunt Emma!
Secret Banana Bread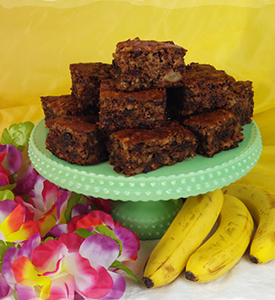 Secret Banana Bread
By Diane Ellen
Ingredients:
· 1 cup sugar
· ½ cup oil
· 2 eggs
· 4 TBSP milk
· 1 tsp vanilla
· 1 tsp cinnamon
· ½ TBSP white vinegar
· 1 cup chopped walnuts (I like more)
· 1 cup chocolate chips (I like less)
· 3 ripe mashed bananas
· 3 chopped apples (no skin)
· 3 tsp baking powder
· 1 tsp baking soda
· 2 cups flour
1. Easy!! Easy!! Mix all ingredients together in one big bowl. Bake in greased 9×13 glass dish at 350 degrees for 60-70 minutes.
Enjoy!!!! May be frozen in Ziploc bags for long time. (P.S. May be eaten frozen!)